Discover our wide range of products
More than 50.000 quality products are waiting for you!
We are one of the leading direct distributors for professional users in the trade, building and vehicle repair sectors as well as the agricultural sector and industry and commerce.
Welding equipment | Welding sets | Welding consumables
In addition to professional welding sets of all power classes and for all known welding methods (also spot welding and oxy-fuel gas welding), TECHNOLIT offers a comprehensive range of high-quality accessories and welding consumables for all common types of materials.
Our product offer includes a wide range of welding wires for gas metal arc welding and electrodes for modern high-strength steels (vehicle construction) as well as welding wires and electrodes that are particularly suitable for fixed-position welding. Protective welding products, such as heat insulation pastes or welding protection sprays, as well as workplace equipment, such as screens or extraction systems, are also part of the products offered by TECHNOLIT.
Plasma cutting systems and systems for the environmentally friendly cleaning of stainless steel (removal of scale and tarnish) can also be found.
Discover the product range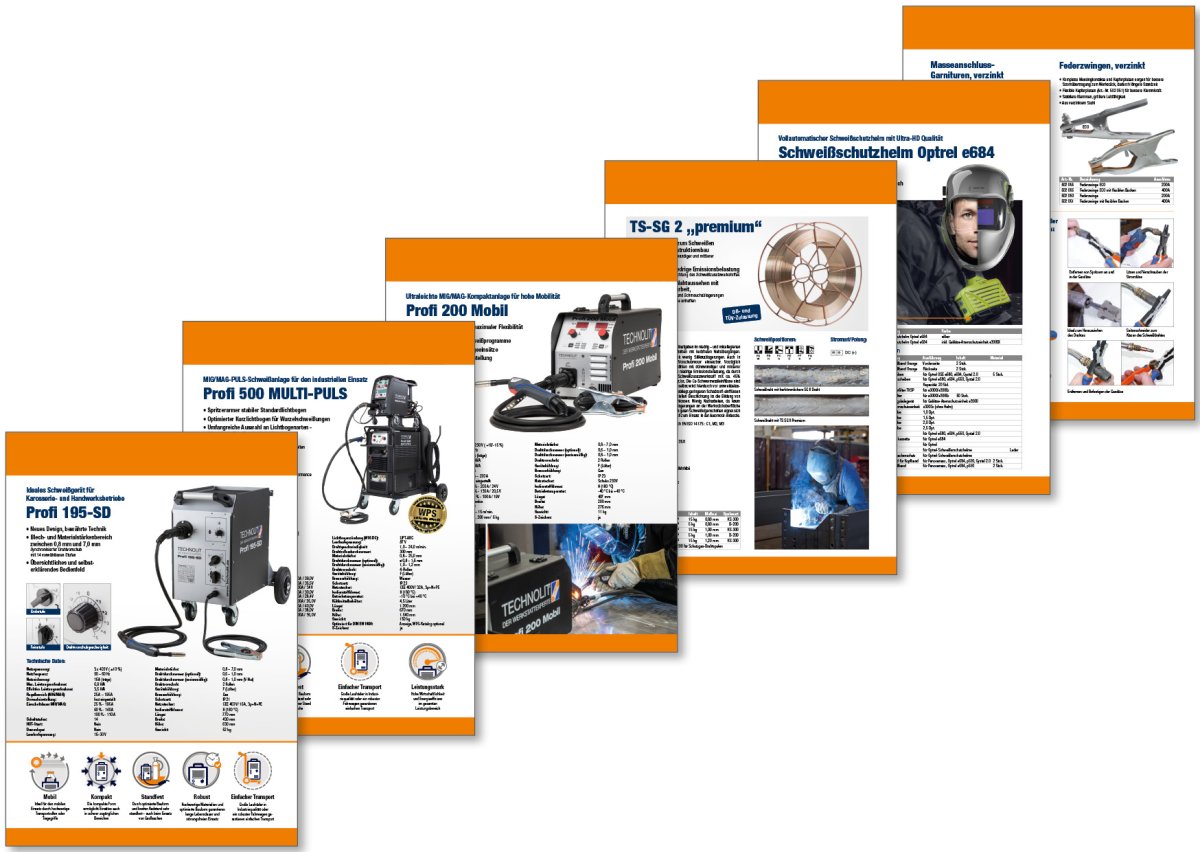 "Mobile Welding Technology" -
a special service for our customers
Our trained welding specialists use fully equipped service vehicles to join you on site where they provide expert advice about particularly difficult cases requiring an extensive technical explanation (especially for welding tasks). They are at your side to help you perform your tasks properly and quickly. If necessary, they can also demonstrate the handling of our products based on your specific application or problem. Benefit from the professional competence of our "Mobile Welding Technology" experts and their demonstrations, advice and tips concerning your daily work.
Learn more about our welding expert service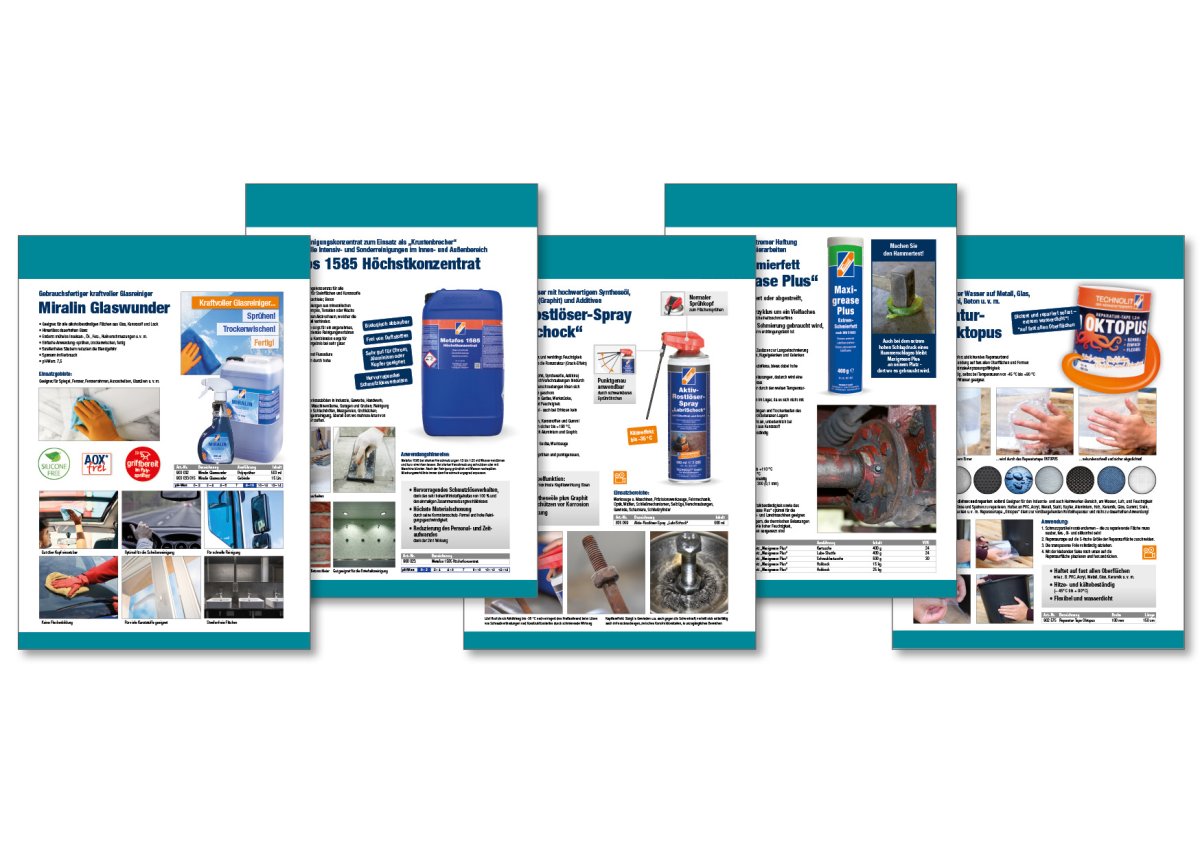 Cleaning chemicals | Sprays and pastes | Adhesive products
Workshops, trade businesses, various industries and maintenance facilities use a wide range of chemical products, such as sprays, grease, assembly agents and antirust agents for the maintenance of machines and vehicles. TECHNOLIT offers a comprehensive range of high-quality products as sprays or in cans or cartridges.
Cleaning agents are also available: We offer universal cleaning agents for deep cleaning or regular maintenance cleaning in an industrial or sanitary setting as well as special (alkaline, acid or pH neutral) cleaning agents with special properties. Vehicle cleaning agents (inside and outside) or cleaning agents for vehicle components (from the tarpaulin down to the brakes or from the air conditioning system to the particulate filter) are another major group of products.
Discover the product range
Tools and machinery
This product range includes pneumatic and power tools for nearly all types of surface machining and finishing tasks, e.g. sawing, cutting, milling and drilling of wood, steel, stone and other mineral matter as well as sandblasting guns for cleaning and rust removal plus spray guns for spray painting.
Hand tools, such as pliers, ratchets, screwdrivers and spanners as well as cutting tools, e.g. cutters, are complemented by tools for special tasks like the removal of damaged screws. Shovels, brooms, paintbrushes and measuring tools are also part of TECHNOLIT's offer.
We know what matters. Good tools make work easier - that's what our quality own brand "GAMBIT®" stands for. Find out more here!
Discover the product range
Grinding and cutting equipment
Grinding and cutting equipment plays an important role in our product range. We offer flap discs, fibre discs and segmented grinding wheels of the highest quality levels as well as cuttings discs for all types of materials. This area has been dominated by compound solutions with extremely fine diamonds or self-sharpening ceramic elements (Cubitron) embedded in the tool steel. They lead to a strong improvement of the grinding and cutting characteristics and have a very positive effect on the service life of the tools. Our product range is complemented by various consumables, such as wire brushes, abrasive belts or sheets as well as fettling and polishing wheels for power drills and angle grinders.
Thanks to close cooperation with renowned tool makers, such as HiKOKI® or DeWALT®, TECHNOLIT can always make excellent offers.
Discover the product range
Health and safety products
TECHNOLIT offers a wide range of health and safety products. So-called personal protective equipment is compulsory in many trades and industries. Our high-quality clothing items for the protection against injuries (cut-resistant trousers, cut-resistant clothing, protective clothing for welders, etc.) or gloves for numerous applications ranging from welding and material handling up to use cases in trade businesses and auto repair shops stand out due to their high quality.
Numerous industrial or manual tasks cannot be performed without respiratory protection, hearing protectors or eye protection, e.g. in the form of a pair of professional goggles. We also offer a wide range of work boots and safety shoes for hot and cold climates. If something does happen, first aid equipment and bandages will help. Operational safety can be ensured by our range of indoor and outdoor markings and signs.
Our partner company "tprosafe" focuses on occupational safety. Learn more about the comprehensive range of products from the PROTECT, CARE, WAY and SIGN safety areas.
Discover the product range